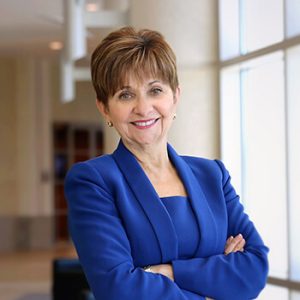 Website
Areas of Responsibility
Develop a 21st century research based medical school, facilitate partnerships, and expand the reach of Medical City. The UCF College of Medicine is fully committed to serving its community and playing a key role in its economic development and quality of life. The college seeks to be extraordinary in all areas of our mission – education, research, patient care, and service – with diversity enhancing everything we do.   
Departments: 
Biography
Dr. German was appointed Founding Dean of the University of Central Florida College of Medicine in December 2006. She also serves as UCF's Vice President for Health Affairs. 
As such, she oversees both the Medical Education (M.D.) program and the Burnett School of Biomedical Sciences. 
Under Dr. German's leadership, the College of Medicine: 
Achieved full accreditation from the Liaison Committee on Medical Education

 
Raised funds to provide full four-year scholarships for the entire Charter class

 

Built a team of over 500 faculty and staff

 

Appointed over 2,000 volunteer and affiliated faculty

 

Oversaw construction of 375,000 square feet of medical school space the emerging Medical City at Lake Nona, located 25 minutes from the UCF main campus.

 
Deborah German earned her undergraduate degree in chemistry at Boston University and gained her M.D. degree from Harvard Medical School. 
She was a Resident in Medicine at the University of Rochester in New York. After her residency, she became a Fellow in Rheumatic and Genetic Diseases at Duke University in Durham, North Carolina. She was appointed to the faculty at Duke University Medical School and worked in the Howard Hughes Medical Institute, studying adenosine metabolism. 
She was also Director of the Duke Gout Clinics and Associate Dean of Medical Education while maintaining her own private practice of Internal Medicine and Rheumatology. 
In 1988, Dr. German joined Vanderbilt University, Nashville, Tennessee, as Associate Dean for Students and later Senior Associate Dean of Medical Education. She was also the National Chair for the Association of American Medical Colleges' Group on Student Affairs. 
While in Nashville, Dr. German served on the Board of Trustees of the Tennessee Medical Association. She also chaired the Tennessee Board of Directors for the Arthritis Foundation. 
After 13 years at Vanderbilt, Dr. German next served as President and Chief Executive Officer at Saint Thomas Hospital in Nashville. She was also Senior Vice President and Chief Academic Officer for Saint Thomas Health Services. Dr. German led a successful hospital turnaround and initiated service excellence and quality programs at the hospital that received national recognition. Throughout this time she continued to practice medicine. 
In 2005, Dr. German spent a year at the Association of American Medical Colleges in Washington, D.C. as a Petersdorf Scholar in Residence. She studied the leadership of academic health centers framed in the concepts of chaos theory and complex adaptive system science. 
Many communities have recognized Dr. German for her contributions. The city of Nashville honored her with the Athena Award and she was inducted into the YWCA Academy for Women of Achievement. She is the recipient of the AAMC Women in Medicine Leadership Development Award. Dr. German was named a Local Legend of Medicine in the National Library of Medicine. 
In Florida, Dr. German was awarded both the 2008 Business Executive of the Year and 2008 Businesswoman of the Year by co-sponsors Orlando Business Journal and Orlando Health. In addition, Dr. German was recognized by the Orlando Sentinel's Editorial Board as 2008 Central Floridian of the Year. 
Dr. German is the mother of two daughters and has one grandson.